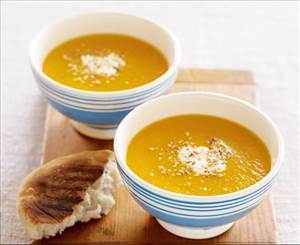 Pumpkin & Cumin Soup
A smashing soup.
Yields: 4
Preparation Time: 5 mins
Cooking Time: 15 mins
Rating:
Ingredients
Directions
Dice onion and garlic, throw in large pot with a spray of oil and cook over medium heat for 3-5 minutes till transparent.
Peel and chop into 3 cm chunks pumpkin, add to pot with stock and cumin. Bring to the boil and cover, turn down to simmer 15-20 minutes until all is soft.
Allow to cool and blend till smooth. Re-heat to serve.
Dollop with natural yogurt and sprinkle with dukkah (optional).